Infrared Thermal Imaging Camera: Model TIR2
DISCONTINUED. This model has been replaced by the TVS-200
| | |
| --- | --- |
| | Color Video Display! |
| | NTSC Video Output! |
| | Dynamic Temperature Measurement! |
| | Image and Temperature Array Storage on Memory Card! |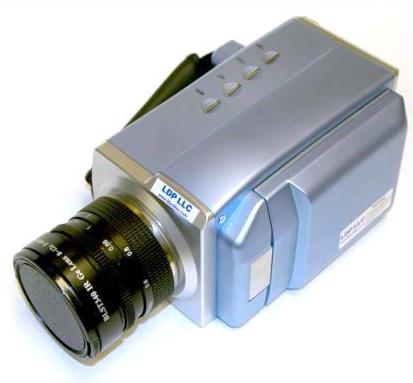 Detector Type: Microbolometer Uncooled Focal Plane Array (MUFPA)
Detector Pixels: 320 x 240 pixels
Spectrum Range: 8-14 microns (8,000nm - 14,000 nm)
Temperature Range: -10˚C to + 350˚C (14˚F to 660˚F)
Thermal Sensitivity: 0.08˚C
Special Resolution: 1mRad
Temperature Accuracy:
1. F0.68 Range: ±1˚C ±1% (-10˚C≤X≤110˚C)
2. F2.90 Range: ±2˚C ±2% (110˚C≤X≤300˚C)
Temperature Measurement Ranges:
1. F0.68 Range: -10 ˚C to 110˚C
2. F2.90 Range: 110 ˚C to 300˚C
Lens: 40mm
Display: 4 Inch TFT color LCD
Image Storage: 256MB Compact Flash (CF) card can save 1,000 images, parameters and voice notations.
Image Replay: Can replay saved images and measure temperature.
Voice Annotation: Voice notations can be replayed with images.
Interface: USB CF reader included. Image and voice data may be transferred to PC for subsequent analysis with supplied software.
Palette: 256 level pseudo colors. User can choose from predefined color palettes or create custom palettes.
Battery: Rechargeable Sony Lithium Ion Batteries included with worldwide 100 - 240 volt charger.
Battery Life: More than two hours. A "Power" message will appear at bottom left of LCD screen when battery is low and a voice alarm will notify was well.
Specifications are subject to change without notice.
Please make sure you have read our information sheet about thermal IR cameras at Thermal Cameras
NOTICE!
The TIR2 camera is a device controlled by the United States International Trade In Arms Regulations (ITAR) by the US State Department. Violation of the law may result in serious consequences. The TIR2 may not be sold to a non-US citizen, foreign company or exported from the United States. We may conduct background checks of any potential buyers and notify appropriate government agencies. Any buyer of this camera should have a clear set of procedures establishing the training, tracking and security of the TIR2.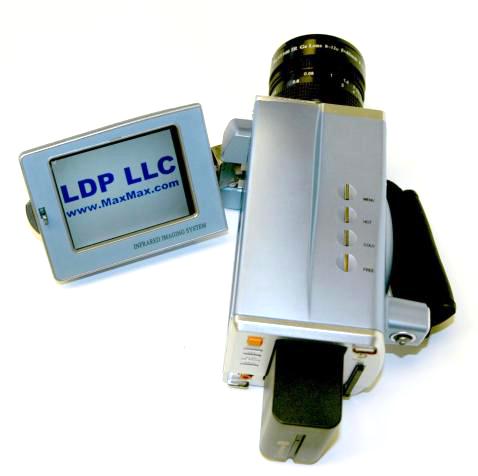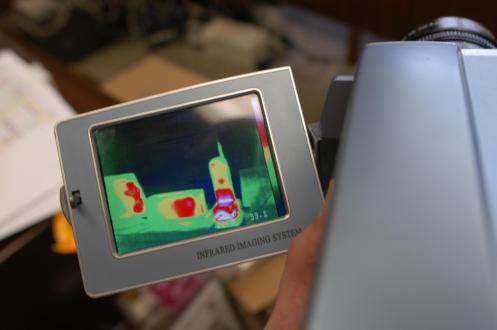 The TIR2 can display images in a variety of user defined color pallets. The unit automatically measures and displays two temperatures in DegC at the bottom of the screen. The first measurement is the temperature at the cross-hair location; the second measurement is the highest in the scene. A second set of cross-hairs automatically jumps to the highest temperature location. A color pallet bar on the right hand side informs the user of the color to temperature relationship.
Accessories:
| | |
| --- | --- |
| | Sony NP-F960 Lithium Ion Battery |
| | Sony NP-F750 Lithium Ion Battery |
| | Sony Worldwide AC-V316 Battery Charger |
| | 256 MB Compact Flash Card |
| | USB Compact Flash Card Reader |
| | USB Cable |
| | Video Cable |
| | Waterproof Locking Hard Case |
| | Image and data analysis software |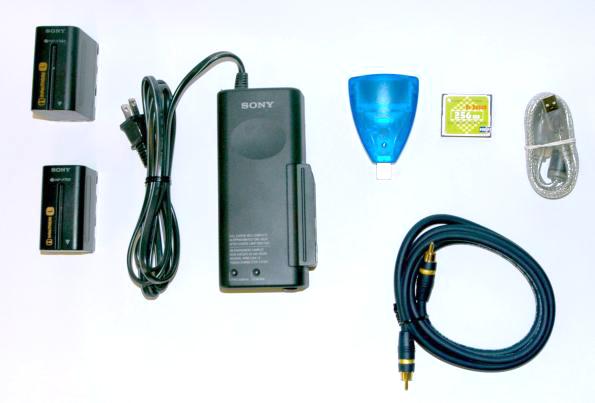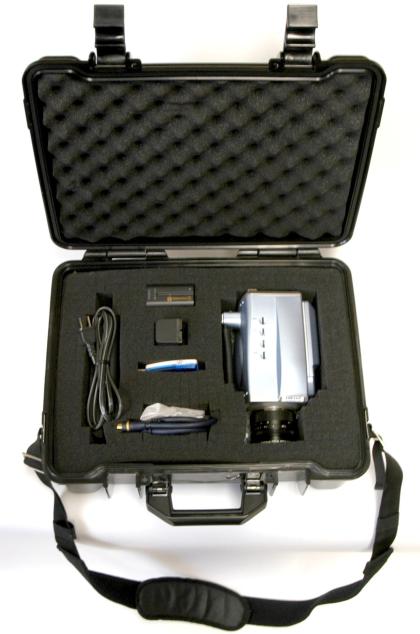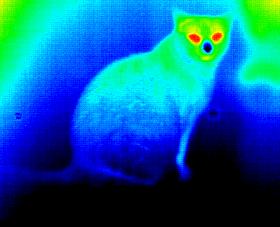 A cat looks at the camera.
The user can define color pallets to represent various temperatures.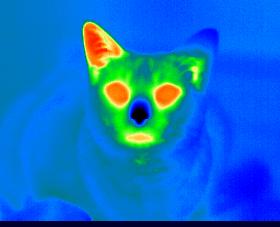 Cold is black. Hot is red. Notice the cat's nose is the coldest while the ears and eyes have the greatest heat loss.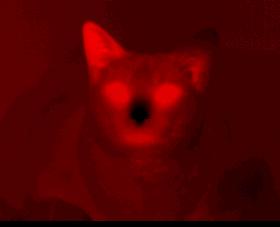 This is the same picture as the previous one but the temperatures have been represented as dark = cold and red = hot.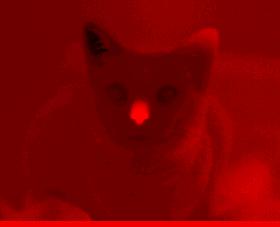 The same picture again but with red=cold and black = hot.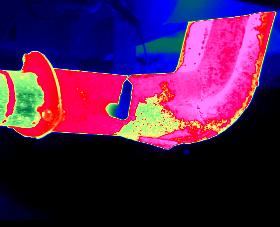 Car headers exhausting into collector pipe.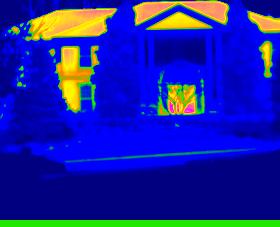 Heat loss from a house. Notice heat is being lost from roof, windows and front door.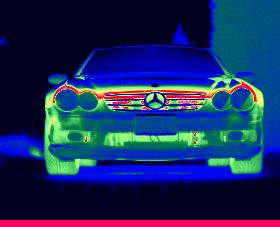 Recently shut down Mercedes S600. You can see some heat reflecting off the pavement (blue) to the hottest parts of the engine (red).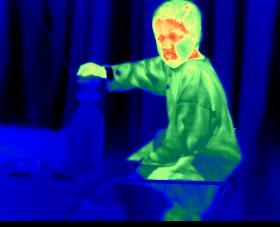 Child looking at camera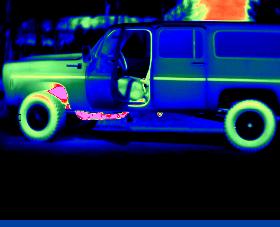 Suburban with engine running. The headers and exhaust are the hottest points glowing pink and red.