DISCONTINUED: Sorry but the flashlight housings we used for this unit are no longer available.
FlashUV9: Dual Ultraviolet / Infrared Light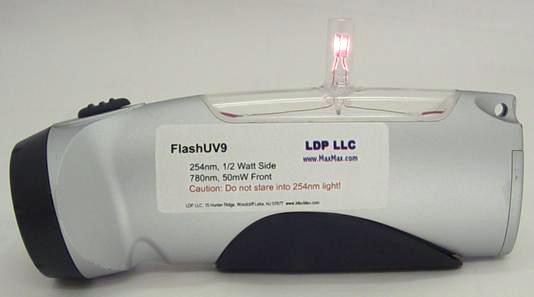 Our FlashUV9 light is a unique, unusual light source with a front 780nm infrared light and a side mounted 254nm ultraviolet short wave UVC light. A three position switch at the top allows the user to select the IR light, UV light or the off position.
Since 254nm light can be dangerous, you should not stare into the lit 254nm bulb.
| | |
| --- | --- |
| Battery Requirement | 4 AA |
| Dimensions | 6" x 3" x 1.75" |
| Front Lens | Infrared 780nm |
| Front Output Power | 50mW |
| Side Bulb | 254nm - Unfiltered |
| Side Output Power | 1/2 Watt |