Canon Rebel 400D (Rebel XTi) 10.0 MegaPixel Infrared-Enabled Camera
DISCONTINUED. This camera has been replaced by the Canon 450D
Model: XNiteCanon400DB - IR+Visible
Model: XNiteCanon400DDIRB - IR-Only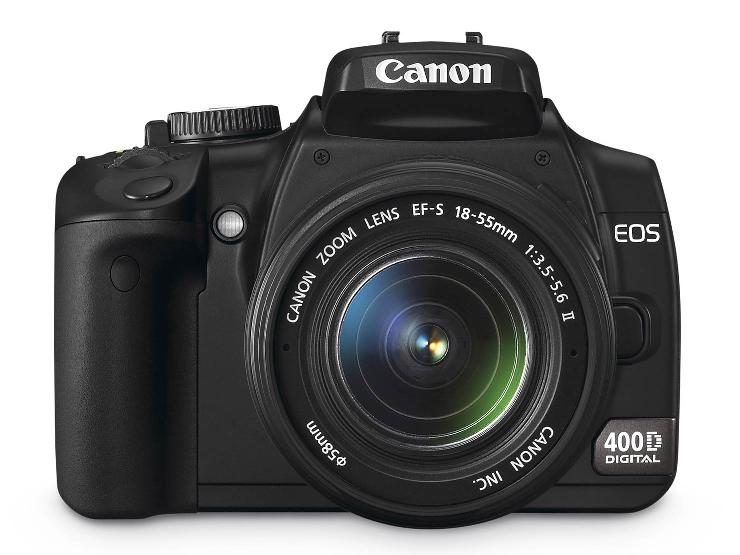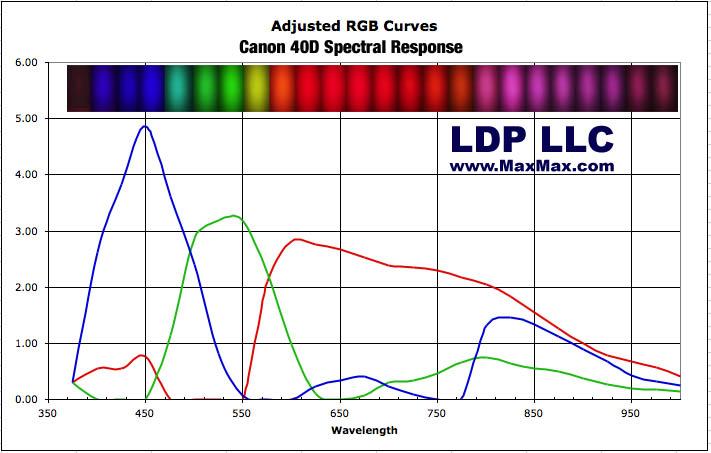 The Canon 400D is a semi-professional digital SLR camera. Because of the nature of the IR enabling modification, we do not recommend this camera to anyone who does not fully understand the implications of the modification.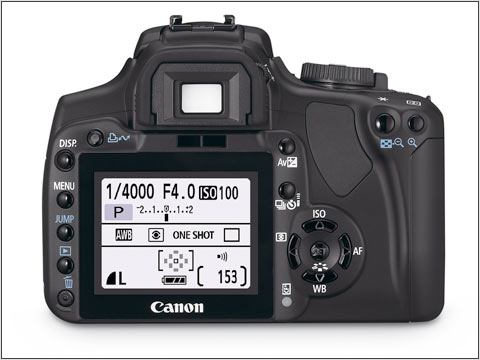 We can modify this camera to be IR+Visible or IR-Only. An IR+Visible camera will see both Infrared and Visible light after modification. An IR-Only camera will only see IR from 715nm through 1200nm. The IR-Only camera has an internal 715nm IR filter with an antiflection coating. The 715nm filter performs similarly to the Hoya RM72 and Wratten 89B.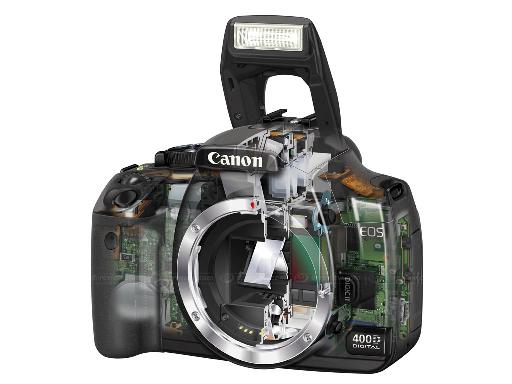 | | | |
| --- | --- | --- |
| | IR+Visible | IR-Only |
| Model | XNiteCanon400D (B) | XNiteCanon400DIR (B) |
| Camera can take normal visible pictures | Yes with CC1 filter | No |
| Camera can take IR pictures | Yes with external IR filter | Yes with no extra filters |
| Camera autofocus will work with IR pictures | No | Yes |
| Camera autoexposure will work with IR pictures | No | Yes with Exp Comp Adj |
| User can see through lens when taking IR pictures | No | Yes. Filter is internal. |
| | |
| --- | --- |
| | EOS Digital 400D Camera Body |
| | Wide Carrying Strap |
| | Worldwide Battery Charger |
| | 110V Power Cord |
| | Battery Pack |
| | Computer Interface Cable |
| | Video Cable for connection to a video monitor (NTSC) |
| | CD-ROM with image processing software |
Benefits
Our modified Canon 400D cameras can take infrared pictures at very high speeds in comparison with a stock camera. For example, the camera can take an IR picture with a F1.2 lens using a 1000nm cutoff filter in daylight at 1/4000 of a second. The modified camera is very fast to the point that it can become a problem if you are using too fast of a lens.
A stock camera would need an exposure of many seconds using the same lens + filter combination.
Equivalent Exposures. Pictures taken under bright, outdoor sun.
| | | | |
| --- | --- | --- | --- |
| Aperture | Shutter Speed (Sec) | Exposure Comp | Filter |
| F10 | 1/1000 | -1.7 | XNiteCC1 (normal photograph) |
| F10 | 1/2500 | -1.7 | No Filter - IR & Visible Light. |
| F10 | 1/1000 | -1.7 | XNite715 - 715nm equiv to 89B or RM72 |
| F10 | 1/800 | -1.7 | XNite830 - 830nm equiv to 87C |
| F10 | 1/100 | -1.7 | XNite1000 - 1000nm equiv to 87A or RM100 |
| F2.8 | 1/1600 | -1.7 | XNite1000 - 1000nm equiv to 87A or RM100 |
A stock camera is comparable to using the modified camera with a XNiteCC1 filter. Under outside sunlight where there is as much IR light as visible light, you will use an Exposure Correction factor of about -1.7. Notice that while you can take a standard picture at 1/1000 sec / F10 with an IR blocking filter, you can increase shutter speed to 1/2500 sec / F10 with no filter when the camera sees both IR and visible light. Using a low-cut IR filter like a XNite715 gives you the same 1/1000 sec shutter speed as you have with the visible light / IR blocking photograph. This is because the modified camera can see as much in the infrared range as it can in the visible range. If you attempted to take a photograph with a stock camera using a low-cut IR filter like the XNite715, your exposure time would have been measured in seconds - not a fraction of a second.
Further, notice that using a high cut filter like a XNite1000 allows you a 1/100 sec shutter speed at F10 or 1/1600 sec shutter speed at F2.8. Try that with a stock camera!
This greatly enhanced near infrared sensitivity makes this camera the choice for professional photographers, astronomical studies, aerial vegetation analysis, geological and mineral exploration and surveillance applications.
Drawbacks on IR+Visible
Using digital SLR camera means that you look through the lens. This is great when you can physically see through the lens, but with a true infrared filter on the camera, you will not be able to see anything! After taking the picture, you can review the shot on the LCD display on the back of the camera. However, the camera image sensor (the CCD) is hidden behind the camera's shutter until you take a picture. Therefore, you cannot preview an infrared picture prior to taking the shot.
Unlike consumer cameras like the other Sony digital infrared enabled cameras which we sell, the SLR cameras such as the Canon 400D meters light through a separate light sensor. The typical consumer cameras use the camera's CCD to set exposure. Since the Canon camera has a separate metering circuit, the camera does not correctly automatically set exposure. The user must manually set the Exposure Compensation (EC) function. The amount of correction will vary depending on the ambient infrared light. We may find a fix for this in the future.
This modified camera sees infrared and visible light simultaneously. For normal photography, you will need to use an IR blocking filter like our XNiteCC1. You will need an XNiteCC1 filter for each lens size you plan to use for normal photography.
Modification will void your warranty.
Conclusion
IR+Visible enabled digital SLR camera is only good for somebody who really needs a serious infrared capable digital camera and wants to take visible pictures as well If you will only be using the camera for infrared, we recommend the IR-Only version because you will be able to see through the lens, autofocus and shoot in automatic modes as long as you dial in the exposure compensation needed beforehand.
If you are a casual user, you are much better suited getting a camera like the Sony DSC-N1 which doesn't have the exposure compensation issue and only uses one filter size.
If you don't understand the explanation above, do not buy this camera.
We can modify your Canon 300D, 350D or Canon 400D for a $450 fee + return shipping & handling ($20 for UPS ground insured within continental USA).
Canon 400D Specifications
International naming
? US: Canon Rebel Digital XTi
? Japan: Canon EOS Kiss Digital X
? Elsewhere: Canon EOS 400D
Body material
Plastic (Stainless Steel chassis)
Sensor

*

? 10.1 million effective pixels
? 10.5 million total pixels
? 22.2 x 14.8 mm CMOS sensor
? RGB Color Filter Array
? Built-in low-pass filter
? 3:2 aspect ratio
Dust reduction

*

? Low-pass filter vibration at power-on (can be interrupted)
? Anti-static coating on sensor surfaces
? Software based dust-removal (camera maps dust, removed later)
Image sizes

*

? 3888 x 2592 (L)
? 2816 x 1880 (M)
? 1936 x 1288 (S)
Output formats
? RAW (.CR2)
? RAW (.CR2) + JPEG Large/Fine
? JPEG (EXIF 2.21) - Fine, Normal
Image processor
DIGIC II
Lenses
? Canon EF / EF-S lens mount
? 1.6x field of view crop
Focus modes
? Auto Focus
? Manual Focus (switch on lens)
Auto Focus
? 9-point CMOS sensor

*


? AF working range: -0.5 to 18 EV (at 23?C, ISO 100)

*

AF modes
? AI Focus
? One shot
? AI Servo
AF point selection
? Auto
? Manual
AF assist
Flash strobe
Shooting modes
? Auto
? Program AE (P)
? Shutter priority AE (Tv)
? Aperture priority AE (Av)
? Manual (M)
? Auto depth-of-field
? Portrait
? Landscape
? Close-up
? Sports
? Night portrait
? Flash off
Metering
? TTL 35-zone SPC
? Metering range: EV 1.0 - 20 EV (at 23?C, ISO 100, 50 mm F1.4)
Metering modes
? Evaluative 35-zone
? Partial 9% at center
? Center-weighted average
AE Lock
AE lock button
AE Bracketing
? +/- 2.0 EV
? 0.5 or 0.3 EV increments
Exposure compen.

? +/- 2.0 EV
? 0.5 or 0.3 EV increments

Sensitivity

? Auto (100 - 400)
? ISO 100
? ISO 200
? ISO 400
? ISO 800
? ISO 1600

Shutter
? Focal-plane shutter
? 30 - 1/4000 sec (0.5 or 0.3 EV steps)
? Flash X-Sync: 1/200 sec
? Bulb
Aperture values
? F1.0 - F91 (0.3 EV steps)
? Actual aperture range depends on lens used
White balance
? Auto
? Daylight
? Shade
? Cloudy
? Tungsten
? Fluorescent
? Flash
? Custom
WB Bracketing
? +/-3 levels
? 3 images
? Selectable Blue/Amber or Magenta/Green bias

*

WB fine-tuning
? Blue (-9) To Amber (+9)
? Magenta (-9) to Green (+9)
Color space
? sRGB
? Adobe RGB
Picture style

*

? Standard
? Portrait
? Landscape
? Neutral
? Faithful
? Monochrome
? User 1
? User 2
? User 3
Custom image parameters

*

? Sharpness: 0 to 7
? Contrast: -4 to +4
? Saturation: -4 to +4
? Color tone: -4 to +4
? B&W filter: N, Ye, Or, R, G
? B&W tone: N, S, B, P, G
Drive modes
? Single
? Continuous: 3.0 fps up to 27 JPEG / 10 RAW frames

*


? Self-timer 10 secs (3 sec with mirror lock-up)
Mirror lockup
Yes (custom function)
Viewfinder
? Pentamirror
? 95% frame coverage
? Magnification: 0.8x (-1 diopter with 50 mm lens at infinity)
? Eyepoint: 21 mm
? Dioptric adjustment: -3.0 to +1.0 diopter
? Fixed laser matte screen
? Proximity sensor disables LCD shooting mode information

*

Viewfinder info
? AF points
? AF/FE lock
? AEB
? Shutter Speed
? Aperture
? Exposure Level / Compensation
? Max. burst
? AF/MF focus confirmation
? CF warning
DOF preview
Yes, button
LCD monitor

*

? 2.5" TFT LCD
? 230,000 pixels
? Wide viewing angle
? 7 brightness levels
? Up to 10x zoom playback
LCD shooting mode information
? Shutter speed
? Aperture
? Sensitivity (ISO)
? Exposure mode
? Meter / Exposure compenation
? Bracketing
? Flash compensation
? White balance & fine tuning
? Metering mode
? Custom function set
? Auto focus mode
? Drive mode
? Auto focus areas
? Black & white mode
? Beep
? Red-eye reduction
? Image size / quality
? Battery status
? Frames remaining
Record review
? Uses last play mode

*


? Magnification possible

*


? 2 / 4 / 8 sec / Hold
Flash
? Auto pop-up E-TTL II auto flash
? Guide number approx 13
? Modes: Auto, Manual Flash On/ Off, Red-Eye Reduction
? X-Sync: 1/200 sec
? Flash exposure compensation: +/-2.0 EV (0.3 or 0.5 EV steps)
? Coverage up to 17 mm focal length (27 mm FOV equiv.)
External flash
? E-TTL II auto flash with EX-series Speedlites
? Hot-shoe
Other features
? Orientation sensor
? Automatically writes FAT16/FAT32 depending on capacity
Auto rotation
? On (playback uses orientation data in file header)
? Off
Playback mode
? Single image
? Single image with info (histogram brightness / RGB

*

)
? Magnified view (1.5 - 10x in 15 steps, browsable)
? 9 image index
? Auto play
? Image rotation
? Jump (by 10, 100 or date)
Custom functions
11 custom functions with 29 settings

*

Menu languages

? English
? German
? French
? Dutch
? Danish
? Finnish
? Italian
? Norwegian
? Swedish
? Spanish
? Russian
? Simplified Chinese
? Tradional Chinese *
? Korean
? Japanese

Firmware
User upgradable
Connectivity

? USB 2.0 (Hi-Speed)
? Video out
? E3 type wired remote control

Storage
? Compact Flash Type I or II
? Microdrive supported
? FAT 12/16 and FAT 32 support
? No CF card supplied
? Up to 9999 images per folder

*

Power
? Lithium-Ion NB-2LH rechargeable battery (supplied & charger)
? CR2016 Lithium battery (date/time backup)
? Optional ACK-700 AC adapter
Direct printing
? Canon Selphy Printers
? Canon Bubble Jet Printers with direct print function
? Canon PIXMA Printers supporting PictBridge
? PictBridge
Dimensions

*

127 x 94 x 65 mm (5.0 x 3.7 x 2.5 in)
Weight

*

? Body (no battery): 514 g (1.1 lb)
? Body (inc battery): 556 g (1.2 lb)
Software

*

? Zoom Browser EX / ImageBrowser
? PhotoStitch
? EOS Utility (inc. Remote Capture; Windows & Mac except Mac Intel)
? Digital Photo Professional (Windows / Mac)