Fuji F30: 6.3 MegaPixel Low-Light Low-Cost IR Enabled Camera
Model: XNiteFujiF30 - Discontinued. This camera has been replaced by the Fuji J20

ISO 3200
The Fuji F30 is the world's first digital camera to feature an ISO 3200 sensitivity at full 6.3 megapixels of resolution. The Fuji uses a larger and newer sensor than other typical point and shoot cameras that enables it to gather light much better. The F30 has outstanding low light and IR sensitivity.
Visually, the only external thing different about this camera is that a 30mm filter ring has been glued to the front of the camera so that you can screw 30mm filters to the front. Internally, we have modified the optics so that the camera can see from 330nm to 1200nm versus a stock camera which can see from about 380nm to 750nm.
The 30mm filters for this camera are available Here.
Like our other IR enabled digital cameras, you should buy our CC1 color correcting filter (IR blocking filter) when using this camera for normal photography outdoors since our modified camera sees both infrared and visible light.
If you would like us to convert your camera, the cost is $175 + return S&H ($20 for UPS ground insured with domestic USA).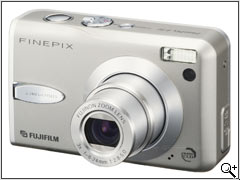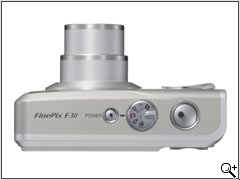 Sensor

• 1/1.7 " Type CCD
• 6.3 million effective pixels

Image sizes
• 2848 x 2136
• 3024 x 2016 (3:2)
• 2048 x 1536
• 1600 x 1200
• 640 x 480
Movie clips
• 640 x 480 @30fps
• 320 x 240 @30fps
• with Monoaural sound
File formats
• JPEG (Exif 2.2)
• Movie: AVI (Motion JPEG)
• DPOF
Lens
• 36-108mm equiv
• F2.8-5.0
• 3x optical zoom
Digital zoom
up to 6.2x
Focus
AF with Macro
AF area modes
• Center
• Multi
Focus distance
• Normal: 60cm-infinity
• Macro: 5cm (wide)
Metering
256- zone TTL
ISO sensitivity
• Auto
• ISO 100
• ISO 200
• ISO 400
• ISO 800
• ISO 1600
• ISO 3200
Shuttter speed
1/2000-15secs
Aperture
F2.8-8
Modes
• Auto
• Program AE
• Aperture Priority
• Shutter Priority
• Burst/Continuous
Scene modes

• Natural light
• Natural light with flash
• Portrait
• Landscape
• Sport
• Night
• Fireworks
• Sunset
• Snow
• Beach
• Underwater
• Museum
• Party
• Flower close-up
• Text

White balance
• Auto
• Fine
• Shade
• Fluorescent light (Daylight)
• Fluorescent light (Warm white)
• Fluorescent light (Cool white)
• Incandescent light
Self timer
2 or 10secs
Continuous shooting
2.2fps max 3 images
Image parameters
• Standard
• Chrome (vivid)
• B&W
Flash
• Auto
• Intelligent flash mode
• Red eye reduction
• Forced flash
• Supressed flash
• Slow synch
• Red eye reduction & Slow synch
Viewfinder
No
LCD monitor
• 2.5-inch
• 230,000 pixels
• Anti-glare/low reflection
Connectivity
• USB 2.0 high speed
• Video out
Print compliance
PictBridge
Storage
• 10MB internal memory
• xD-Picture Card
Power
• NP-95 Li-ion battery
• AC adapter AC-5VC included
Weight (no batt)
155 g (5.5 oz)
Dimensions
92.7 x 56.7 x 27.8 mm (3.6 x 2.2 x 1.1 in)