DISCONTINUED
Model: XNiteFujiS8000 UV + Visible + IR (Almost the same as the IS-1)
Model: XNiteFujiS8000IR IR-Only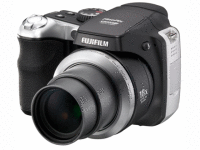 8 Megapixels 6400 ISO 18x Optical Zoom

Our modified Fuji S8000 is the performs very simlarly to the more expensive Fuji IS-1. We have modified cameras for Fuji and they later decided to come out with their own UV+Visible+IR cameras. Our XNiteFujiS8000 camera can see from about 340nm to 1100nm.

The camera uses 58mm filters which are available here. Note, you should use the XNiteCC1 filter to block infrared light when you want to take a normal picture. For infrared pictures, you have many options. If you are just starting, we recommend at least one high cut filter (like a 1000nm or XDP) and one low cut filter (like a 715nm) because they have very different looks.

Because the camera uses an Electonic Viewfinder (EVF), all the focusing is done through the image sensor and you will see the UV, visible or infrared image before you take the picture.

We can convert your Fuji S8000 for $275 for IR+Visible and $375 for IR-Only + return &H ($20 UPS ground insured domestic USA). Turn around is usually 1 or 2 days from receipt.

This camera uses 58mm Filters available Here. For normal photographs, you should order an XNiteCC1 filter. For UV photographs, you can use our XNite330 or XNiteUVR. We recommend stacking our XNiteBP1 filter to block the small infrared transmission bump that all UV filters have.
General
| | |
| --- | --- |
| | Product Type |
| | Digital camera - Point and shoot |
| | |
| --- | --- |
| | Weight |
| | 14.5 oz |
| | |
| --- | --- |
| | Width |
| | 4.4 in |
| | |
| --- | --- |
| | Depth |
| | 3.1 in |
| | |
| --- | --- |
| | Height |
| | 3.1 in |
Main Features
| | |
| --- | --- |
| | Resolution |
| | 8 megapixels |
| | |
| --- | --- |
| | Sensor resolution |
| | 8 megapixels |
| | |
| --- | --- |
| | Optical Sensor Type |
| | CCD |
| | |
| --- | --- |
| | Effective Sensor Resolution |
| | 8,000,000 pixels |
| | |
| --- | --- |
| | Optical Sensor Size |
| | 1/2.35 in |
| | |
| --- | --- |
| | Light Sensitivity |
| | ISO 100, ISO 200, ISO 400, ISO 800, ISO 1600, ISO 3200, ISO 6400, ISO auto |
| | |
| --- | --- |
| | Digital Zoom |
| | 5.1 x |
| | |
| --- | --- |
| | Shooting Modes |
| | Frame movie mode |
| | |
| --- | --- |
| | Shooting Programs |
| | Snow, Text, Beach, Flower, Museum, Sunset, Auction, Fireworks, Landscape, Night mode, Sports mode, Party/indoor, Natural light, Portrait mode, Natural light & with flash |
| | |
| --- | --- |
| | Max Shutter Speed |
| | 1/2000 sec |
| | |
| --- | --- |
| | Min Shutter Speed |
| | 4 sec |
| | |
| --- | --- |
| | Exposure Metering |
| | Multi-segment |
| | |
| --- | --- |
| | Exposure Modes |
| | Program, Automatic, Shutter-priority, Aperture-priority |
| | |
| --- | --- |
| | Auto Exposure Bracketing |
| | 10 steps in 1/3 EV step |
| | |
| --- | --- |
| | White Balance |
| | Presets, Automatic |
| | |
| --- | --- |
| | White Balance Presets |
| | Fine, Shade, Incandescent, Fluorescent light (daylight), Fluorescent light (cool white), Fluorescent light (warm white) |
| | |
| --- | --- |
| | Digital video format |
| | AVI |
| | |
| --- | --- |
| | Still Image Format |
| | JPEG |
| | |
| --- | --- |
| | Continuous Shooting Speed |
| | 0.5 frames per second, 1.3 frames per second |
| | |
| --- | --- |
| | Image Stabilizer |
| | Optical (CCD-shift mechanism) |
| | |
| --- | --- |
| | Color support |
| | Color |
| | |
| --- | --- |
| | Exposure Metering Zones |
| | 256 |
| | |
| --- | --- |
| | TV Tuner |
| | None |
| | |
| --- | --- |
| | Video Capture |
| | AVI - 640 x 480 - 62 sec - With 58MB built-in memory, AVI - 320 x 240 - 99 sec - With 25MB built-in memory |
Memory / Storage
| | |
| --- | --- |
| | Flash Memory |
| | 58 MB Flash - Integrated |
| | |
| --- | --- |
| | Integrated Memory |
| | 58 MB |
| | |
| --- | --- |
| | Image Storage |
| | Fine JPEG 3264 x 2448 : 14 - With 58MB built-in memory, Normal JPEG 3264 x 2448 : 29 - With 58MB built-in memory, JPEG 3264 x 2176 : 32 - With 58MB built-in memory, JPEG 2304 x 1728 : 57 - With 58MB built-in memory, JPEG 1600 x 1200 : 91 - With 58MB built-in memory, JPEG 640 x 480 : 448 - With 58MB built-in memory |
| | |
| --- | --- |
| | Flash memory |
| | 58 MB - Integrated |
| | |
| --- | --- |
| | Supported Flash Memory |
| | MultiMediaCard, SD Memory Card, XD-Picture Card |
Lens System
| | |
| --- | --- |
| | Type |
| | Zoom lens - 4.7 mm - 84.2 mm - F/2.8-4.5 |
| | |
| --- | --- |
| | Focal Length |
| | 4.7 mm - 84.2 mm |
| | |
| --- | --- |
| | Lens Manufacturer |
| | Fujinon |
Additional Features
| | |
| --- | --- |
| | Self Timer |
| | Yes |
| | |
| --- | --- |
| | Self Timer Delay |
| | 2 sec, 10 sec |
| | |
| --- | --- |
| | Additional Features |
| | AE lock, AF lock, DPOF support, Face detection, Audio recording, Cropping an image, Histogram display, PictBridge support, USB 2.0 compatibility, Digital image rotation, In-camera red-eye removal, Digital image stabilization |
Camera Flash
| | |
| --- | --- |
| | Effective Flash Range |
| | 1 ft - 29 ft |
| | |
| --- | --- |
| | Type |
| | Pop-up flash |
| | |
| --- | --- |
| | Flash Modes |
| | Auto mode, Fill-in mode, Slow synchro, Flash OFF mode, Red-eye reduction |
| | |
| --- | --- |
| | Red Eye Reduction |
| | Yes |
| | |
| --- | --- |
| | Effective flash range |
| | 1 ft - 29 ft |
| | |
| --- | --- |
| | Features |
| | AF illuminator |
Viewfinder
| | |
| --- | --- |
| | Viewfinder Type |
| | Electronic |
| | |
| --- | --- |
| | Color support |
| | Color |
| | |
| --- | --- |
| | Diagonal size (inches) |
| | 0.24 in |
| | |
| --- | --- |
| | Resolution |
| | 230,000 pixels |
Display
| | |
| --- | --- |
| | Type |
| | LCD display - TFT active matrix - 2.5 in - Color |
| | |
| --- | --- |
| | Mounting |
| | Built-in |
| | |
| --- | --- |
| | Resolution |
| | 230,000 pixels |
Digital Player (Recorder)
| | |
| --- | --- |
| | Type |
| | None |
Microphone
| | |
| --- | --- |
| | Type |
| | Microphone - Built-in |
| | |
| --- | --- |
| | Mode |
| | Mono |
Connections
| | |
| --- | --- |
| | Connector Type |
| | 1 x USB, 1 x Composite video/audio output, 1 x DC power input |
| | |
| --- | --- |
| | Expansion Slot(s) |
| | 1 x XD-Picture Card, 1 x SD Memory Card |
Lens Systems
| | |
| --- | --- |
| | Auto Focus |
| | TTL contrast detection |
| | |
| --- | --- |
| | Type |
| | Zoom lens |
| | |
| --- | --- |
| | Focal length |
| | 4.7 mm - 84.2 mm |
| | |
| --- | --- |
| | Focal Length Equivalent to 35mm Camera |
| | 27 - 486 mm |
| | |
| --- | --- |
| | Focus adjustment |
| | Manual, Automatic |
| | |
| --- | --- |
| | Min Focus Range |
| | 27.6 in |
| | |
| --- | --- |
| | Macro Focus Range |
| | 1cm |
| | |
| --- | --- |
| | Lens Aperture |
| | F/2.8-4.5 |
| | |
| --- | --- |
| | Optical Zoom |
| | 18 x |
| | |
| --- | --- |
| | Zoom Adjustment |
| | Motorized drive |
Miscellaneous
| | |
| --- | --- |
| | Carrying Case |
| | None |
| | |
| --- | --- |
| | Cables Included |
| | USB cable, A/V cable |
| | |
| --- | --- |
| | Included Accessories |
| | Lens cap, Shoulder strap |
Power
| | |
| --- | --- |
| | Power Device |
| | Power adapter - External |
System Requirements for PC Connection
| | |
| --- | --- |
| | Operating system |
| | MS Windows ME, MS Windows XP, MS Windows 2000, MS Windows 98 SE, MS Windows Vista, Apple Mac OS X 10.4, Apple Mac OS X 10.3.9 |
| | |
| --- | --- |
| | Peripherals |
| | USB port, CD-ROM drive |
Battery
| | |
| --- | --- |
| | Supported Battery |
| | 4 xAA Alkaline battery ( Included), 4 xAA NiMH rechargeable battery ( Optional) |
Software
| | |
| --- | --- |
| | Type |
| | FinePix Viewer, Drivers & Utilities |