DISCONTINUED. This model has been replaced by the Sony HDR-XR550V
Sony HDR-XR500V IR + Visible Functionality
Model: XNiteSonyHDR-XR500V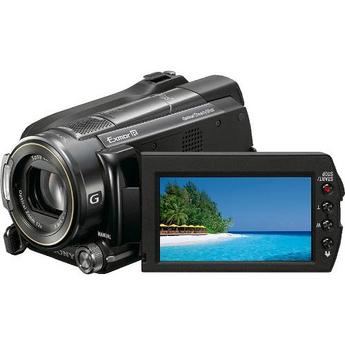 We have a fully functional, brand-new 0-Lux Infrared (IR) capable Sony Camcorder HDR-XR500V that has been modied to see IR and Visible light simultaneously in normal mode. By placing an IR filter on the camera, you can use the camera to see infrared images with all normal camera functionality unlike the NiteShot mode where the aperture is fully wide and shutter speed is 1/30 of a second. This camera permits you to shoot in broad daylight with full shutter and aperture control. This modified camera is completely normal as a regular Handycam but and can also film at up to 1200nm even in daylight. You can use this as your regular camcorder and also as your infrared camcorder.
Externally, there are no visual changes. Internally, we have modified the optics so that the camera can see from 330nm to 1200nm versus a stock camera which can see from about 380nm to 750nm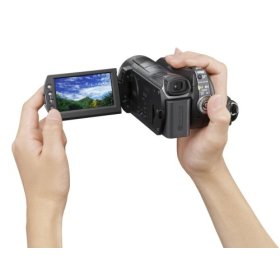 Click Here For Actual Pictures Taken With our Camcorder and Normal Camcorder
Click Here For A Comparison Of Our Different Filters
All currently manufactured Sony camcorders will shoot a washed-out picture in daylight situations when in Niteshot mode without an IR filter! For a brief period a few years ago, some Sony handycams/handicams could shoot in daylight when in 0-Lux Niteshot mode. Then, some users discovered the ability to see through some fabrics in certain situations (The infamous X-Ray effect). When Sony found out, they changed the camcorders so that when you are in Niteshot mode, the aperture is forced to full open and slow shutter speed. The result is that if you try shooting in daylight situations when in Niteshot mode, your picture will be completely washed-out and overexposed. Further, even if you use neutral density filters to compensate, the depth of field is very shallow meaning that your focus will only be correct in a narrow range. Also, the slow shutter speed will blur moving objects.
Don't be mislead by others selling normal camcorders with the Niteshot feature. Unless the camcorder has been re-enabled, the you may not be able to shoot outdoors in Niteshot mode will be with the addition of neutral density filters depending on the light and your particular model camera. Make sure when somebody tells you the camcorder is "modified" that you understand if it was modified to shoot Niteshot during the day or modified by Sony NOT to shoot during the day!
This camera has been modified so that in normal mode, the camera see both infrared and visible light simultaneously. This means:
1: If you want to only see the infrared spectrum, you need to use an infrared pass / visible light blocking filter such as our XNite IR filters.
2: For normal photography, you will need to use an XNiteCC1 color correct filter which blocks Infrared light and passes visible light. If you don't use an XNiteCC1 filter, the camera will see both IR and visible light simultaneously which will result in strangely colored pictures especially outdoors.
3: In NiteShot mode, the camera operates like a stock camcorder. The IR illuminating IR LED's turn on, exposure and aperture control is limited and the picture is tinted green. You generally will only use the factory NiteShot mode when taking pictures at night where when you want the IR illuminating LED's to turn on. Otherwise, the normal mode is better for IR photography including low light photography where you don't want or can't use the IR illuminators.
The 37mm filters for this camera are available Here.
Would you like us to convert your camera? We can convert your camera for $750 + return S&H ($20 insured UPS ground domestic USA). Camera should be shipped well packed, insured, with lens cover and battery for testing. Turnaround is typically 1 or 2 days depending on how busy we are.
Our Performance Guarantee If you are not satisfied with your IR enabled camera, we will put it back to stock at no additional charge other than return shipping
General
Product Type

Camcorder

Digital Zoom

150 x

Optical Sensor Size

1/2.88"

Optical Sensor Type

Exmor R CMOS

Min Illumination

3 lux

Digital Video
Image Stabilizer

Optical (Steady Shot)

Digital Scene Transition

Black fader , White fader

Min Shutter Speed

1/8 sec

Max Shutter Speed

1/800 sec

Shooting Modes

Digital photo mode

Shooting Programs

Snow , Beach , Candle , Sunset , Sunrise , Fireworks , Landscape , Spotlight , Portrait mode , Twilight mode

Exposure Modes

Program,

Automatic
Camera Flash

Built-in flash

Widescreen Video Capture

Yes
Main Features
Camcorder Sensor Resolution

6.631 megapixels

Camcorder Effective Video Resolution

4.15 megapixels

Camcorder Effective Still Resolution

6 megapixels

Camcorder Interpolated Still Resolution

12 megapixels

Color Support

Color

Face Detection

Yes

Still Image Format

JPEG

Remote Control

Remote control - Infrared

TV Tuner

None
Memory / Storage
Floppy Drive

None

Digital Storage Media

Hard disk drive - Built-in - 120 GB
Lens System
Type

Zoom lens - 5.5 mm - 66 mm - F/1.8-3.4

Focal Length

5.5 mm - 66 mm

Lens Aperture

F/1.8-3.4

Optical Zoom

12 x

Lens system type

Zoom lens

Min focal length

5.5 mm

Max focal length

66 mm

Features

Built-in lens shield

Filter Size

37 mm

Focus Adjustment

Manual , Automatic

Zoom Adjustment

Motorized drive
Additional Features
Low Lux / Night Mode

Yes

Digital Still Camera Function

Yes

Search Modes

Index search , Face index search

Remote control

Remote control - Infrared

Software

Drivers & Utilities , Sony Picture Motion Browser
Viewfinder
Viewfinder Type

Electronic

Viewfinder Diagonal Size

0.27 in

Viewfinder Resolution

123,000 pixels
Display
Type

LCD display - TFT active matrix - 3.2 in - Color
Digital Player (Recorder)
Type

None
Microphone
Type

Microphone - Built-in

Microphone Features

Zoom
Connections
Connector Type

1 x Composite video/audio output , 1 x USB , 1 x Component video output , 1 x HDMI output , 1 x S-Video output , 1 x Remote control , 1 x Headphones , 1 x Microphone

Expansion Slot(s)

1 x Memory Stick PRO Duo
Audio Input
Audio input type

Microphone

Microphone type

Built-in

Microphone Operation Mode

Surround
System Requirements for PC Connection
Operating System Support

MS Windows XP , MS Windows 2000 , MS Windows Vista

Peripheral Devices

USB port , CD-ROM drive
Miscellaneous
Cables Included

A/V cable , Component video cable , USB cable
Power
Power Device

Power adapter - External
Battery
Supported Battery

Sony NP-FH60

Supported Battery

1 x Sony NP-FH60 Li-ion rechargeable battery ( Included )
Viewfinder / Display
Display Form Factor

Rotating

Display Format

921,000 pixels

Viewfinder Color Support

Color
Physical Characteristics
Width

2.8 in

Depth

5.4 in

Height

3 in

Weight

18 oz