Discontinued.
Model: XNiteSunpack622-715: Sunpack 622 with Zoom Head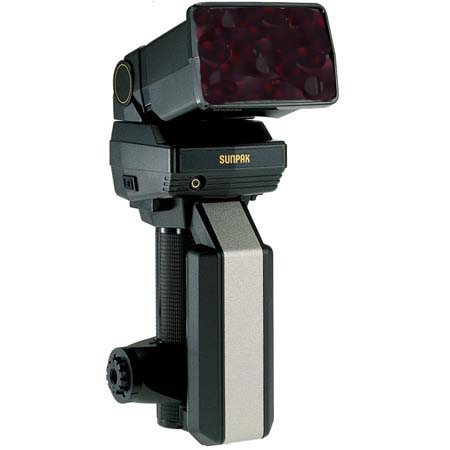 The specifications listed below are for the stock flash - not the infrared flash. Please understand that the flash performance with your camera will vary with a variety of factors. Please read more at IR Camera Flashes
The 622 Super Pro is the most powerful handle mount dedicated flash system. Features the ability to use any of 7 interchangeable flash heads (standard, wide angle, zoom, infrared, ringlight, diffused and bare bulb) as well as a wide range of Autofocus & TTL dedicated modules. Requires use of EXT-11 Cord, and appropriate Sunpak dedicated module. Has 7 auto aperture settings, as well as manual control with power ratio from full to 1/128th power. Able to operate from a variety of power sources, including AC, its boasts an impressive guide number of 60/200 (m/ft) with ISO 100 film. All 622 Super Pro components and accessories are also compatible with the 622 Auto, which provides a guide number of 160 with ISO 100 film.
Type
Handle Mount
Guide Number
200
Zoom Range
Optional
Bounce Capability
Yes
Swivel Capability
Yes
Auto Settings
Auto Distance Range 2.3-100' (0.7 to 30.5 m)
Auto f/Stops f/2.0, 2.8, 4.0, 8.0, 5.6, 11 & 16
Angle of Coverage
63° (35mm lens in 35mm format) with normal head
Recycle Time
11 Seconds (based on fresh batteries & full power)
Power Source
Four 1.5-Volt "C" type alkaline batteries
Dimensions (W x H x D)
4.3 x 10.8 x 6.1" (109 x 274 x 155mm)
Weight
2.06 lb (936 g)

Compatible with the following systems:

| | |
| --- | --- |
| Camera Type | B&H Module # |
| Bronica | SUDMB |
| Canon EOS AF | SUDMCAF |
| Canon EOS (Non-AF) | SUDMC |
| Canon Manual | SUDMC |
| Hasselblad | SUDMH |
| Konica | SUDMK |
| Minolta Maxxum | SUDMMAF |
| Minolta MD | SUDMM |
| Mamiya 645 Pro-TL | SUDMM645TLP |
| Nikon AF | SUDMNAF |
| Nikon (Manual) | SUDMN |
| Nikon | SUDMNF3 |
| Pentax | SUDMP |
| Ricoh | SUDMR |
| Contax/Yashica | SUDMCY |