Discontinued - Sorry, but Casio stopped manufacturing this watch.
Casio WQV-1
X-Ray Watch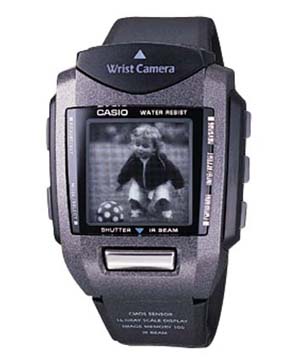 So you want X-Ray Stealth? How about an infrared, X-Ray capable watch capable of storing 100 images. We modified this watch so that you can to IR pictures. We fitted a special infrared pass/visible light blocking filter that is permanently attached. You can even view the image live on the monitor (120x120) built into the watch or play back stored images. Aside from the X-Ray capability, the watch also can act as a normal watch, timer and stopwatch. You can also transfer images to your PC using a wireless infrared port built into the watch.
Example X-Ray pictures using the Casio Watch.
Here is the setup for the test. The color picture was taken with a Sony DSC-S30 camera. The Casio WQV-1 is a black and white camera!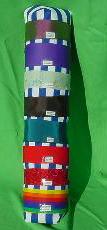 Various fabrics have been banded around a tubular pillow. You can see other example shots with different cameras here.
All the black and white shots are real pictures taken by our X-Ray enabled Casio WQV1 wrist watch camera. Pictures were taken under typical incandescent lights indoors! Outdoor pictures would be even better.

Same multi-test setup shot from the Casio WQV1.

Black Taffeta. 100% Polyester

Opal Silk. 100% Silk.

Purple Knit. 100% Polyester.

Red Spandex. 85% Nylon. 15% Lycra
A built-in 16-grayscale monochrome LCD panel acts as both the viewfinder and an on-the-spot playback monitor. Enough memory capacity is provided to store up to 80 images and infrared data communication. These Wrist Camera watches also feature 5 alarms which can be set up to display a specific digital image when each alarm time is reached. Images can be transferred to a computer and viewed by using the Wrist Camera watches internal software. A library of images can be stored on your desktop and then transferred back to a Wrist Camera or e-mailed to friends.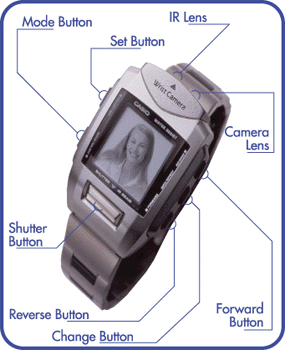 | | |
| --- | --- |
| Recording Format: | CASIO original (conversion to BMP or JPEG when uploading to a computer) |
| Recording Medium: | Built-in 1MB memory |
| Memory Capacity: | 100 images |
| Recording Element: | 1/14-inch monochrome CMOS sensor |
| Total Pixels: | 28,000; Pixel Yield: 24,334 |
| Lens: | F2.8 fixed; f =1.1mm |
| Focusing Distance: | 30cm to ´ |
| Subject Illumination: | Approximately 100Lx to 45,000Lx |
| Exposure Control: | Light metering system; full screen average; ALC (Average Luminance Control), exposure compensation |
| Shutter: | Electronic shutter |
| Shutter Speed: | 1/11 to 1/1660 second |
| Monitor: | 120x 120 dots (14,400); monochrome with 16 grayscales); 20 x 20mm screen size |
| Recording Modes: | Normal; Art; Merge |
| Data Bank: | Up to 24 characters per image (alpha, numeric, basic symbols) |
| Clock: | Timekeeping display, five alarms, timer, stopwatch |
| Other: | Auto power save system, simple record |
| Infrared Communication: | Casio original system |
| Infrared Functions: | Image data exchange with a computer, data exchange with another Wrist Camera |
| Data Speed: | 115,200 BPS |
| Communication Distance: | 10cm maximum |
| Dimensions/Weight: | 40(W) x 52(H) x 16(D) mm / 32g |
| Power Requirements: | CR2032 battery |
| Approximate Battery Life: | 6 months (60 seconds of cameraoperation per day) |
| Options: | Wrist Camera Infrared Adapter & Link Software (Wrist Camera data management application) |
MAIN FEATURES


Wrist-type wearable B&W digital camera
The super compact, lightweight configuration of the Casio Wrist Camera means it is always on your wrist, whenever that magic moment presents itself. You can send images to your friends, family, and colleagues, opening up a totally new world of digital communication.


25,000-pixel Black & White CMOS sensor
Monochrome image recording is made possible by a 25,000-pixel (144 x 176 pixels) CMOS sensor. You can use IR data communication to transfer images to a computer where you can display them.


16-grayscale monochrome STN LCD monitor screen
The 120 x 120-dot LCD serves as a viewfinder when recording images and as a monitor screen for on-the-spot viewing of images.


Image data transfer with a personal computer
The Wrist Camera comes complete with infrared data communication capabilities. Simply connect the IR adapter to your computer and install the bundled link software and you can transfer images to your computer for editing, touch up, and long-term storage. When necessary, you can transfer images back to the Wrist Camera. You can even use Wrist Camera images to create your own, original screen saver.


Image exchange with another Wrist Camera
Images can be transferred between two Wrist Cameras quickly and easily using IR data exchange.


Memory storage for up to 100 images
1MB of built-in memory provides enough storage for up to 100 images (JPEG compressed). Images can be recorded and deleted as many times as you want. An Auto Date feature automatically records the date (year, month, day) and time (hour, minutes) you record the image along with the image data.


Visual Data Bank for storage of phone numbers with portraits
After you record an image you can input up to 24 characters (12 characters in the upper line, 12 characters in the lower line) of memo text. A simple operation inputs alpha characters or numbers, so you can record a person's portrait and then input their name and telephone number. A Thumbnail Screen allows display of up to 16 images on a single screen.


User-friendly features and functions
An Auto Power Save feature automatically turns power off whenever it detects that the Wrist Camera is not being worn on the wrist, which minimizes battery consumption.

The press of a button records an image (except in the Visual Databank Mode or Communication Mode), which means that recording is quick and easy.

Two recording modes - 50 Hz and 60 Hz.

Timekeeping, alarm, timer, and calendar functions