Nikon D80: 10.2 MegaPixel Prosumer Infrared-Enabled Camera
DISCONTINUED. This model has been replaced by the Nikon D90.
Models:
XNiteNikonD80 IR+Visible
XNiteNikonD80IR IR-Only
XNiteNikonD80HR Visible Hot Rod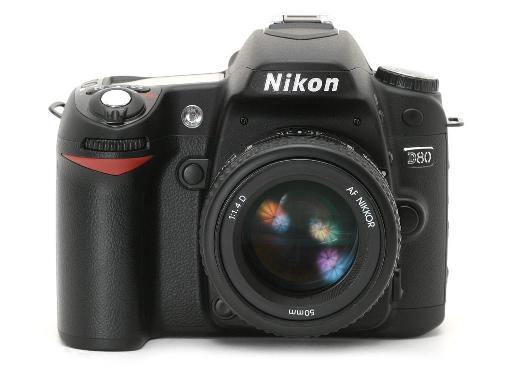 The Nikon D80 is a professional digital SLR camera. Because of the nature of the IR enabling modification, we do not recommend this camera to anyone who does not fully understand the implications of the modification. This camera offers great IR sensitivity, dynamic range and low noise.
We can modify this camera to be IR+Visible, IR-Only or Visible Hot Rod. An IR+Visible camera will see both Infrared and Visible light after modification. An IR-Only camera will only see IR from 715nm through 1200nm. The IR-Only camera has an internal 715nm IR filter with an antiflection coating. The 715nm filter performs similarly to the Hoya RM72 and Wratten 89B.
A Visible Hot-Rod camera will maximize the resolution and color depth of the camera at the expense of possible moire pattens. Please see more about this conversion here.
| | | |
| --- | --- | --- |
| | IR+Visible | IR-Only |
| Model | XNiteNikonD80 | XNiteNikonD80IR |
| Camera can take normal visible pictures | Yes with CC1 filter | No |
| Camera can take IR pictures | Yes with external IR filter | Yes with no extra filters |
| Camera autofocus will work with IR pictures | No | Yes |
| Camera autoexposure will work with IR pictures | No | Yes with Exp Comp Adj |
| User can see through lens when taking IR pictures | No | Yes. Filter is internal. External IR filters at other frequencies may be used with manual control. |
Key features
10.2 megapixel DX format CCD (1.5x FOV crop)
Image processing engine (similar to D200 / D2X)
3D Color Matrix Metering II, 420 pixel sensor (same as D50)
11-area AF system (new version of Multi-CAM 1000, similar to D200)
Custom Auto ISO (selectable maximum ISO, minimum shutter speed)
Configurable high ISO and long exposure noise reduction
Mechanical only shutter (maximum 1/4000 sec, flash sync to 1/200 sec)
Quoted 80 ms shutter lag (short viewfinder blackout; 160 ms)
Larger, brighter pentaprism viewfinder (x0.94 magnification)
Support for SD-HC (SD cards over 2 GB in capacity)
In-camera retouching

| | |
| --- | --- |
| | D-Lighting (shadow / highlight enhancement) |
| | Red-eye reduction |
| | Trimming |
| | Monochrome |
| | Filter effects |
| | Small picture |
| | Image overlay |

Multiple-exposures
Compact body (smaller, lighter than D70/D70s)
Improved menu user interface (same as D200)
Higher capacity EN-EL3e battery (provides detailed information, same as D200)
Wireless flash integration (same as D200)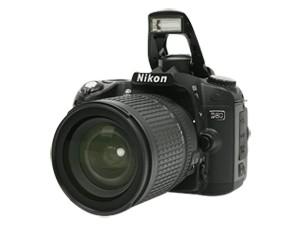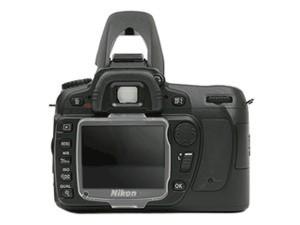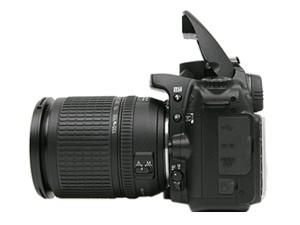 General
| | |
| --- | --- |
| | Weight |
| | 1.3 lbs |
| | |
| --- | --- |
| | Width |
| | 5.2 in |
| | |
| --- | --- |
| | Depth |
| | 3 in |
| | |
| --- | --- |
| | Height |
| | 4.1 in |
Main Features
| | |
| --- | --- |
| | Sensor resolution |
| | 10.2 megapixels |
| | |
| --- | --- |
| | Optical sensor type |
| | CCD |
| | |
| --- | --- |
| | Effective sensor resolution |
| | 10.2 megapixels |
| | |
| --- | --- |
| | Gross sensor resolution |
| | 10.75 megapixels |
| | |
| --- | --- |
| | Light sensitivity |
| | ISO 100-1600 |
| | |
| --- | --- |
| | Shooting programs |
| | Close-up, Landscape, Sports mode, Portrait mode, Night portrait, Night landscape |
| | |
| --- | --- |
| | Max shutter speed |
| | 1/4000 sec |
| | |
| --- | --- |
| | Min shutter speed |
| | 30 sec |
| | |
| --- | --- |
| | X-sync Speed |
| | 1/200 sec |
| | |
| --- | --- |
| | Exposure metering |
| | Spot, 3D color matrix, Center-weighted |
| | |
| --- | --- |
| | Exposure modes |
| | Bulb, Manual, Program, Automatic, Shutter-priority, Aperture-priority, I-TTL program flash |
| | |
| --- | --- |
| | Exposure compensation |
| | ?5 EV range, in 1/2 or 1/3 EV steps |
| | |
| --- | --- |
| | Auto exposure bracketing |
| | 3 steps in 1/3 EV step |
| | |
| --- | --- |
| | White balance |
| | Custom, Presets, Automatic |
| | |
| --- | --- |
| | White balance presets |
| | Flash, Shade, Cloudy, Sunlight, Fluorescent, Incandescent |
| | |
| --- | --- |
| | Status LCD display information |
| | Program, Aperture, Film speed, Flash mode, Frame counter, Metering mode, Photo quality, Shutter speed, Autofocus mode, Self-timer mode, Photos remaining, Battery condition, Red-eye reduction, Memory card status, Picture resolution, Exposure compensation, Remote control indicator, White balance indicators |
| | |
| --- | --- |
| | Still image format |
| | JPEG, RAW + JPEG |
| | |
| --- | --- |
| | Color support |
| | Color |
Memory / Storage
| | |
| --- | --- |
| | Supported flash memory |
| | MultiMediaCard, SD Memory Card |
| | |
| --- | --- |
| | Image storage |
| | JPEG 3872 x 2592, RAW |
Camera Flash
| | |
| --- | --- |
| | Type |
| | Pop-up flash |
| | |
| --- | --- |
| | Flash modes |
| | Auto mode, Fill-in mode, Slow synchro, Flash OFF mode, Red-eye reduction |
| | |
| --- | --- |
| | Red eye reduction |
| | Yes |
| | |
| --- | --- |
| | Features |
| | AF illuminator, Flash +/- compensation |
Additional Features
| | |
| --- | --- |
| | Self timer |
| | Yes |
| | |
| --- | --- |
| | Self timer delay |
| | 2 - 20 sec |
| | |
| --- | --- |
| | External flash terminal |
| | Hot shoe |
| | |
| --- | --- |
| | Video input features |
| | AE lock, AF lock, FE lock, DPOF support, Direct print, Auto power save, Histogram display, PictBridge support, USB 2.0 compatibility, RGB primary color filter, Text input to Exif header, Display brightness control, Depth-of-field preview button |
Viewfinder
| | |
| --- | --- |
| | Type |
| | Optical - Fixed eye-level pentaprism |
| | |
| --- | --- |
| | Color support |
| | Color |
| | |
| --- | --- |
| | Field coverage |
| | 95% |
| | |
| --- | --- |
| | Dioptric correction range |
| | -2 to +1 |
| | |
| --- | --- |
| | Frames |
| | Autofocus frame |
| | |
| --- | --- |
| | LCD display information |
| | AE lock, Aperture, AF-in-focus, Frame counter, Shutter speed, Metering system, Exposure compensation, Flash charge completion |
Display
| | |
| --- | --- |
| | Type |
| | LCD display - TFT active matrix - 2.5 in - Color |
| | |
| --- | --- |
| | Mounting |
| | Built-in |
| | |
| --- | --- |
| | Resolution |
| | 230,000 pixels |
Connections
| | |
| --- | --- |
| | Type |
| | 1 x Composite video output, USB, Remote control, DC power input |
| | |
| --- | --- |
| | Expansion slots |
| | 1 SD Memory Card |
Software
| | |
| --- | --- |
| | Type |
| | Drivers & Utilities, Nikon PictureProject |
System Requirements for PC Connection
| | |
| --- | --- |
| | Operating system |
| | MS Windows 98, MS Windows ME, MS Windows XP, MS Windows 2000, MS Windows 98 SE, Apple Mac OS X 10.1.5 or later |
| | |
| --- | --- |
| | Peripherals |
| | USB port, CD-ROM drive |
Miscellaneous
| | |
| --- | --- |
| | Cables included |
| | Video cable, USB cable |
| | |
| --- | --- |
| | Carrying case |
| | None |
| | |
| --- | --- |
| | Included accessories |
| | Body cap, Dust cap, Lens cap, Eyepiece cover, Shoulder strap |
Power
| | |
| --- | --- |
| | Type |
| | Battery charger - External |
Battery
| | |
| --- | --- |
| | Required |
| | - Lithium ion |