Nikon D90 12.3 MegaPixel Prosumer Infrared-Enabled Camera
Models:
XNiteNikonD90 UV+Visible+IR
XNiteNikonD90IR IR-Only (715nm or 830nm)
XNiteNikonD90HR HR (High Resolution / Hot Rod)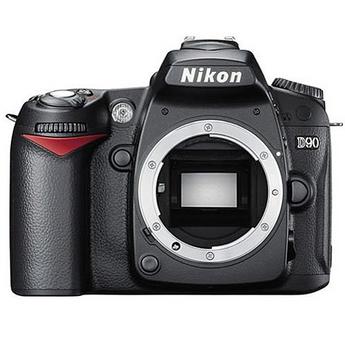 The Nikon D90 is a prosumer digital SLR camera. Because of the nature of the IR enabling modification, we do not recommend this camera to anyone who does not fully understand the implications of the modification. This camera offers great IR sensitivity, dynamic range and low noise.
We can modify this camera to be IR+Visible+UV, IR-Only and High Resolution (HR) . An IR+Visible+UV camera will see both Infrared, Ultraviolet and Visible light after modification. An IR-Only camera will only see IR from 715nm through 1200nm. The IR-Only camera has an internal 715nm IR filter with an antiflection coating. The 715nm filter performs similarly to the Hoya RM72 and Wratten 89B.
Please note that the anti-dust system is disabled on our conversions. Live View will work correctly.
Modification will void your warranty.
We can modify your D90 for $450 + return S&H ($20 UPS ground insured domestic USA). Turn around is 1 or 2 days from receipt. We only need the camera and charged battery for testing along with a cover letter specifying the conversion type.
D90 Specifications
Effective pixels




12.3 million

Image sensor




CMOS sensor, 23.6 x 15.8 mm; total pixels: 12.9 million; Nikon DX format

Image size (pixels)




4,288 x 2,848 [L], 3,216 x 2,136 [M], 2,144 x 1,424 [S]

Top Continuous Shooting Speed at full resolution (CH)




4.5fps

Continuous Shooting Options



CH: up to 4.5fps
CL: Up to 4fps

LCD Monitor




3.0-inch diadonal, Super Density display with approx. 920,000 dots (VGA), 170? viewing angle, approx. 100% frame coverage, and brightness adjustment with 7 levesl

Shutter type




Electronically controlled vertical0travel focal-plane

Shutter Speed Range




1/4000 - 30 sec. in steps of 1, 1/2, or 1/3 EV

Bulb Shutter Setting




Yes

Sensitivity




ISO 200 to 3200 in steps of 1/3 EV, can also be set to approx. 0.3, 0.7 or 1 EV (ISO 100 equivalent) below ISO 200, or to approx. 0.3, 0.7 or 1 EV (ISO 6400 equivalent) over ISO 3200, ISO sensitivity auto control available

Storage media




SD and SDHC memory cards

Storage System



JPEG: JPEG-baseline-compliant; can be selected from Size priority and Optimal Quality Compressed 12-bit NEF (RAW)
Video: AVI format

File System




Compliant with DCF 2.0, EXIF 2.21, DPOF

Exposure modes




Auto modes (auto, auto [flash off]), Advanced Scene Modes (Portrait, Landscape, Sports, Close-up, Night Portrait), Programmed auto with flexible program (P), Shutter-priority auto (S), Aperture-priority auto (A), Manual (M)

Exposure metering




3D Color Matrix Metering II, Center-Weighted 420 pixel RGB sensor, and Spot Metering

Metering Range



1) 0 to 20 EV (Matrix or center-weighted metering)
2) 2 to 20 EV (Spot metering) (ISO 100 equivalent, f/1.4 lens, at 20 degrees C/68 degrees F)

Exposure Meter Coupling




CPU

Exposure Compensation




?5EV

Exposure Lock




Yes

Shutter Release Modes




Live View [LV] mode, Continuous low-speed [CL] mode (1-4fps), Single Frame [S] mode, Self-timer mode, Continuous high-speed [CH] mode (4.5fps)

Movie Modes



Movie with sound
HD 1280x720 (24fps), VGA 640x480 (24fps), QVGA 320x240 (24fps)

White Balance




Shade, Sun, Fine Tune by Kelvin color temperature setting, Auto, Preset, Fluorescent, Incandescent, Flash, Auto (TTL white balance with 420-pixel RGB sensor) Seven manual modes with fine-tuning; Sun Shade Fluorescent Incandescent Flash Preset Fine Tune by Kelvin Color temperature setting

White Balance Bracketing




Yes, 2 0r 3 exposures, in increments of 1, 2, or 3

D-lighting Bracketing




Yes, 2 exposures

Live View Shooting




Yes

Playback Functions




Auto image rotation, Histogram, Zoom, Shooting date, Slideshow, Highlight point display, Full frame, Sounds playback, Pictmotion, D-Movie playback Thmbnail (4, 9, 72 segments), Calendar

Interface




HDMI and NTSC, Hi-Speed USB 2.0

Lens Mount




Nikon F bayonet mount

Compatible Lenses



1) DX AF NIKKOR: All functions possible
2) D-/G-type AF NIKKOR (excluding IX NIKKORlenses): All functions possible (excluding PC Micro- NIKKOR)
3) AF NIKKOR other than D-/G-type (excluding lenses for F3AF): All functions except 3D-Color Matrix Metering II possible
4) AI-P NIKKOR: All functions except Autofocus, 3D-Color Matrix Metering II possible
5) Non-CPU AI NIKKOR: Autofocus not supported. Can be used in exposure modes A and M but exposure meter does not function. Electronic range finder can be used if maximum aperture is 5.6 or faster; Color Matrix Metering and aperture value display supported if user provides

Picture Angle




1.5

Viewfinder




Frame coverage: Approx. 96%, 19.5mm Eyepoint, -2 to 1.0 m-1 Diopter Adjustment

Reflex Mirror




Quick-return type

Focusing Screen




Type-B BriteView Clear Matte screen Mark II with superimposed focus brackets and On-Demand grid lines

Interchangeable Focusing Screens




No

Viewfinder Magnification




Approx. 0.94

Depth-of-field Control




Yes

Autofocus System




Nikon Multi-CAM 1000 autofocus module with TTL phase detection, 11 focus points (including 1 cross-type sensor) and AF-assist illuminator (range approx. 0.5 - 3m/1 ft. 8in. - 9 ft. 10 in.)

Autofocus Sensitivity




-1-+19 EV (ISO 100, 20?C/68?F

Focus Modes



Continuous-servo (C)
Single-Serve AF (S)
Manual (M) with electronic rangefinder
Live View autofocus: Face priority, wide area, normal area

Single-point AF mode




Yes

Dynamic AF Mode




Yes

Auto-area AF Mode




Yes

Focus Lock




Half press of shutter release button (single-point AF in AF-S), AE-L/AF-L button

Picture Control




Vivid, Portrait, Landscape, Monochrome, Standard, Nine User-customizable settings, Neutral

In-Camera Image Editing




Filter effects, Color balance, Monochrome, Image overlay, D-lighting, Trim, Distortion control, NEF (RAW) processing, Quick Retouch, Straighten

Built-in Flash




Yes

Built-in Flash Distance




Guide #: 56 at ISO 200 (Feet)/17 at ISO 200 (Meters)

Dust-Off Reference Photo




Yes

Save/Load Camera Settings




Yes

Nikon Creative Lighting System Compatibility



Yes
Built-in Commander mode 2 groups: A/B 4 channels: 1-4 TTl, Non-TTl Auto and Manual mode

Flash Sync Speed



up to 1/200
FP High Speed Sync: up to 1/4000

Power Sources




One Rechargeable Li-ion Battery EN-EL3e (up to 850 shots), Multi-Power Battery Pack MB-D90 (optional) with one or two Rechargeable Li-ion Battery EN-EL3e or six R6/AA-size alkaline, Ni-MH, lithium or nickel-manganese batteries (Battery Holder MS-D200 is required when using R6/AA-size batteries)

Battery Charger




MH018a Quick Charger

Tripod Socket




1/4-20

Dimensions (W x H x D)




Approx. 132 x 103 x 77 mm (5.2 x 4.1 x 3.0 in.)

Weight




Approx. 620 g (1 lb. 6 oz.) without battery, memory card, body cap or LCD monitor cover

Supplied Software




Software Suite CD-ROM

Supplies Accessories




EN-EL3e Rechargeable Li-ion Battery, MH-18a Quick Charger, DK-5 Eyepiece Cap, DK-21 Rubber Eyecup, UC-E4 USB Cable, EG-D2 Audio Video Cable, AN-DC1 Camera Strap, BM-10 LCD Monitor Cover, Body Cap, BS-1 Accessory Shoe Cover, Software Suite CD-ROM Supplied accessories may differ depending on country or area

Optional Accessories




MB-D90 Multi-Power Battery Pack, ML-L3 wireless remote control, DK-21M Magnifying Eyepiece, EH-5a AC Adapter, Capture NX2 Software, Camera Control Pro 2