Panasonic LX7 10.1 MegaPixel Low-Light Low-Cost IR Enabled Camera
Models:
XNiteLX7 UV+Visible+IR
XNiteLX7IR IR Only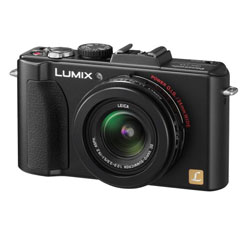 We can modify the Lumix LX7 for either UV-VIS-IR or IR-Only 715nm. If you wish to add filters to the camera, we can include an adapater that mounts on the camera that allows you to add 37mm filters. The adapter is removable. If you would like the adapter, we can include one for an additional $35.00 which you can find on our camera order page near the LX5 cameras.
The 37mm filters for this camera are available Here.
Like our other IR enabled digital cameras, you should buy our CC1 color correcting filter (IR blocking filter) when using this camera for normal photography outdoors since our modified camera sees both infrared and visible light.
If you would like us to convert your camera, the cost is $175 for UV+Visiible+IR and $275 for IR-Only + return S&H ($20 for UPS ground insured with continental USA). The adapter ring is not included, but is available for an additional charge