Models:
LIR850-25: 150 Meter 850nm 25 Degree Beam
LIR850-70: 60 Meter 850nm 70 Degree Beam
LIR940-25: 90 Meter 940nm 25 Degree Beam
LIR940-70: 45 Meter 940nm 70 Degree Beam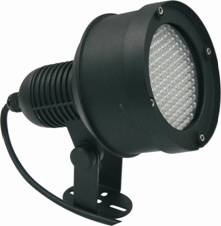 Features
| | |
| --- | --- |
| | IP66 aluminum professional housing |
| | High efficiency heat evaporating structure |
| | Built-in 147 PCs high power infrared LEDs |
| | Special design circuit to prolong LED's life span |
| | IR effective degrees: 25° or 70° |
| | IR effective distance: Up to 150M (outdoor) |
| | Dual power input: AC24V; DC12V |

We have 850nm and 940nm variations of our Pro Series IR illuminators. The 850nm will emit a very faint red glow while the 940nm will not. However, the 940nm LED's have about 1/2 the power and IR sensitive cameras are not as sensitive at 940nm. If you absolutely need a covert light source, then you should use a 940nm unit, but a 850nm unit will give better illumination.
The lights are also available with either 25 degree or 70 degree beams. A 25 degree beam is a more focused spotlight beam while the 70 degree beam is an IR floodlight. The spotlight beams will shine farther while the floodlights will illuminate a large area directly in front of the unit.
We have the 850nm 25 degree version also available with a professional Color IR camera mounted inside.