TIR4 Long Range Thermal Infrared Viewer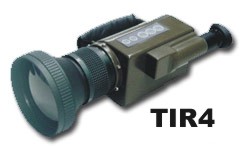 This handheld thermal viewer is a high-resolution thermal imager that provides convenience and high performance such as very clear images , 2x zoom, long detection range and automatic adjustment of contrast and brightness.
True Infrared thermal imaging by uncooled detector technology allows you to detect intruders over long distances even in total darkness without any illumination. They are ideal for Public Safety, Search & Rescue, Security & Firefighting, Law Enforcement and Marine Applications. Options and accessories, available from Wuhan Guide, provide right fields of view for your applications.

Capture, measure and document thermal problems with the TIR4 hand-held automated infrared thermal viewer. With highly sensitive uncooled detector, Handheld Thermal Viewer TIR4 can penetrate thick smoke, fog or total darkness to detect any intruders in the complete absence of light. This feature makes it available as a turnkey system for Public Safety, Drug Interdiction, Forest Fire Prevention, and Costal Surveillance.

Features and Benefits
| | |
| --- | --- |
| | Night Vision |
| | Long Range Detection |
| | Rugged Portability |
| | User Adjustable Aperture & Focus |
| | Hand-Held and Lightweight |
| | 150mm Long Range Lens 1500 Meter Range |
Detector Type:
Uncooled FPA Microbolometer (320 x 240pixels)
Spectral Response:
8 to 14 microns
Frame Rate:
60 Hz
Spatial Resolution:
: 0.5mrad
NETD:
< or = to 0.1°C
Range to Detect a Target:
1500M ( 4900 ft )
Electronic Zoom:
2X,4X
Camera Configuration:
May be saved, recalled or reset to a factory default
Ergonomic Design:
One hand operation
Mounting Provisions:
Tripod mount
Operating Temperatures:
-10°C to 50°C(-40°C Optional )
Storage Temperature:
-40°C to 60°C
Enclosure:
IP54
Power Source:
Rechargeable Li-ON battery (7.2VDC)
Power Consumption:
<6 watts
Operating Time per Charge:
>2 hours (varies from batteries and environmental conditions)
Dimensions:
222mm (L) X 108mm (W)
X 103mm (H)
(Excluding Lens)
Display
CRT Viewfinder
Weight:
< 2kg ( 4.4 lbs )
Interfaces -Video Output:
NTSC
External Control:
RS-232
Standard Lens:
150mm F/1.0
Field of View:
8°X 6°