Model: XNiteFlashBFLUV
High Powered (35W/50W) / High Efficiency Ultraviolet High Intensity Discharge (HID) Light

The highest powered ultraviolet handheld light available. For exceptional use for mineral collectors, prospecting, rodent detection, forensics, scorpion hunting and any activity needing a high powered UV light. Easy to carry, lightweight, long run time and quite durable. We also have the light available as a visible HID flashlight
Specifications
| | |
| --- | --- |
| | 350nm to 400nm transmission in the Longwave UV |
| | Parabolic focusing reflector for illuminating fluorescent objects at great distances |
| | 15 Degree beam spread |
| | 6.6 Amp Hour 16.8V Lithium Ion lightweight battery |
| | 35 Watt normal and 50 Watt with boost powered HID bulb |
| | Battery charge status check display |
| | 3 Hour Run Time |
| | 4 to 6 Hour charging time |
| | 3.9 lbs / 1.75 KG weight with battery installed |
| | Rubberized housing withstands a 5 foot drop |
| | Over 2,200 hour lamp life |
| | Integrated metal rings for strap attachment |
Features
| | |
| --- | --- |
| | High powered and lightweight Ultraviolet light source |
| | Balanced front and rear for easy hand holding |
| | Removable battery can be swapped quickly |
| | Battery level can be easily checked by pressing a button on handle |
| | Power of light can be temporarily boosted from 35W to 50W by pressing button on handle |
| | Metal carrying case included |
| | Worldwide 100-240V charger included |
| | HID bulb runs much cooler and much more efficiently than a comparable incandescent bulb |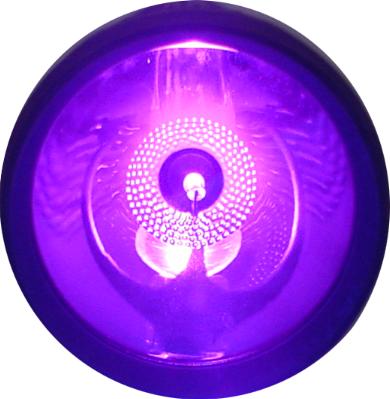 Well balanced for easy hand holding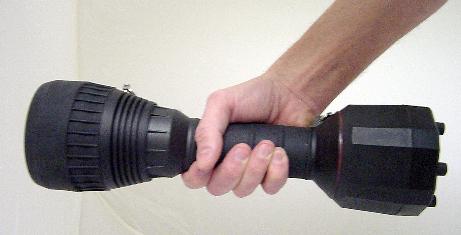 Metal storage case included with pockets for light and charger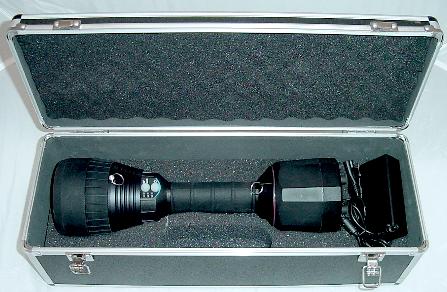 Switch detail. The XNiteFlashBFLUV has two buttons.
The bottom button is the power switch
The top button functions as the battery check switch when units is off and the boost switch when unit is on.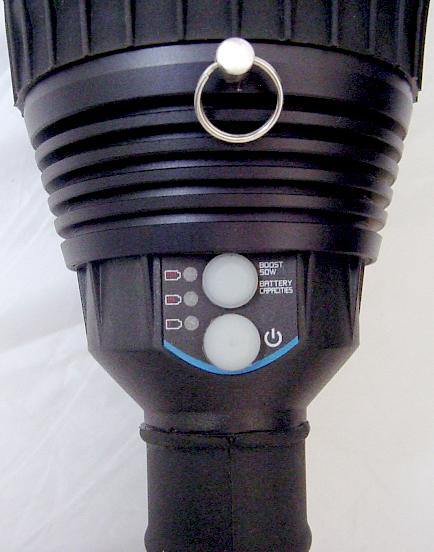 Battery check switch pressed with unit off shows charged battery.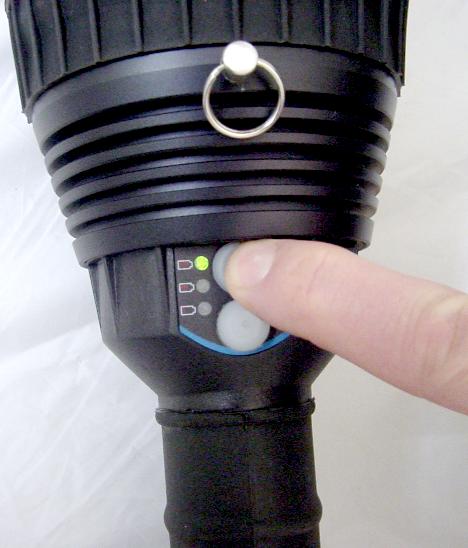 Unit on in 35W normal mode power button lights up.
Unit on with 50W boost mode activated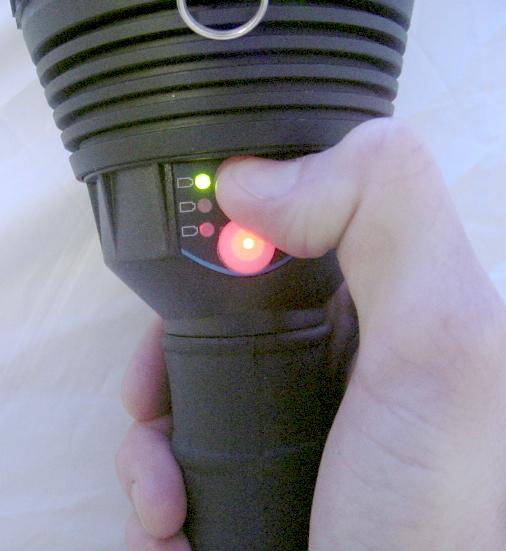 Battery quickly removes from light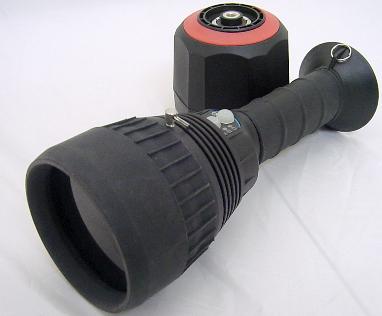 Worldwide switching battery charger included.
XNiteFlashBFLUV spectral power output. Note that almost all energy is in the 350nm to 400nm longwave UV region.