Our miniature and sub-miniature LED lights are the smallest, lightest LED penlights you can buy. The sub-miniature is smaller than a cigarette in length and width. The miniature light is thinner than a cigarette and only 10cm long! Battery life is extraordinary. Brightness is incredible for such a tiny light.

LED Mini-Light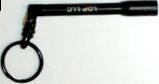 LED Sub-Mini Light
Shared Features
| | |
| --- | --- |
| | Rubber O-Ring Sealed To Protect Against Moisture |
| | Black Anodized Brass Case Resists Corrosion and is Anti-Reflective |
| | Water Resistant |
| | Ultra Light / Ultra Small |
LED Sub-Mini Features
| | |
| --- | --- |
| | Keychain Loop |
| | 6.5cm long, 0.50cm body, 0.80cm head |
| | 1 to 4 Hour Battery Life (depending on wavelength) |
| | Uses one Lithium 3 Volt Pin Battery BR435 (Included) |
LED Mini Features
| | |
| --- | --- |
| | Pocket Clip |
| | Lanyard Hole |
| | 10cm long, 0.50cm body |
| | Uses two Lithium 3 Volt Pin Batteries BR435 (Included) |
| | 2 to 10 Hour Battery Life (depending on wavelength) |
Models Available
| | | | |
| --- | --- | --- | --- |
| Model | Case Style | LED Color | Power |
| LEDSmRed | Sub-Mini | Red 626nm | 3,000 mcd |
| LEDSm880 | Sub-Mini | 880nm (Infrared) | 50 mW |
| LEDSm940 | Sub-Mini | 940nm | 50 mW |
| LEDMn375 | Mini | 375nm (Ultraviolet) | 2 mW |
| LEDMn400 | Mini | 400nm (Ultraviolet) | 800 mcd |
| LEDMnBlue | Mini | 465nm Blue | 6,000 mcd |
| LEDMnWhite | Mini | White | 10,000 mcd |
| LEDMnRed | Mini | Red 626nm | 3,000 mcd |
| LEDMn880 | Mini | 880nm Infrared | 50 mW |
| LEDMn940 | Mini | 940nm Infrared | 50 mW |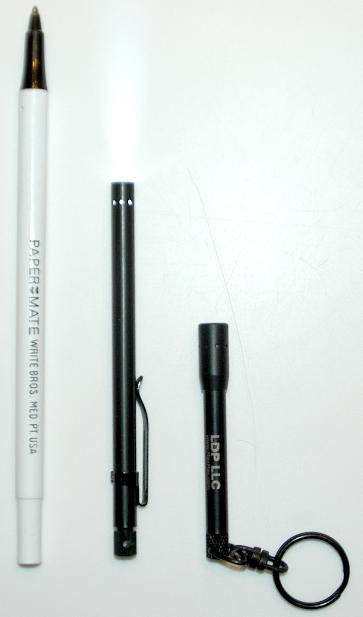 For comparison, check out the size of the lights versus a common pen. These lights are really small!
Using our modified FSC-F717 infrared sensitive camera, we took a picture of the various LED Mini lights. The violet one on the left is a 400nm ultraviolet light. The far two lights on the right are 880nm and 940nm infrared lights. The 880nm and 940nm lights are not visible to the human eye. You need an infrared sensitive camera (such as NightShot camcorders) or night vision equipment to see the light. Notice that cameras cannot simultaneously focus on UV, visible and IR light. This is because the wavelength affects the focal length on the lens. If you focus on IR, the visible light won't be in focus. In this picture, we focused on the visible white light so the UV and IR lights are not quite in focus.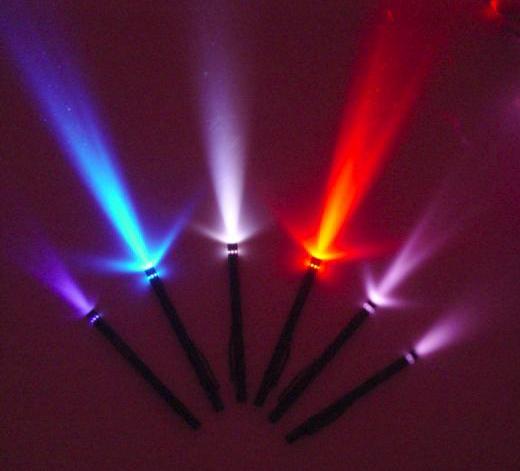 Here you can see our LEDMn400 with the 400nm LED illuminating invisible ink. Note: 400nm will illuminate most UV fluorescent inks; depending on the ink or dye, it might not work as well as the 375nm LED or 365 fluorescent tubes. The 400nm is less expensive than the 375nm LED unit and much smaller. The 400nm is very well suited for automotive leak tracing dyes which are tuned for 400nm lights. 700mcd output with peak at 400nm. This is the same LED that others rate as a 395nm LED, however, though they are looking at the minimum frequency, not the peak.
Note: 395-400nm UV lights cost much less than 375nm UV lights. This is because a 395-400nm LED costs about $0.20 while a 375nm LED costs about $26.00. At the moment, there is only one manufacturer in the world that makes a 375nm. However, the 395-400nm lights don't work with as many UV fluorescent materials or may not work as well. It depends on the particular characteristics of the material. Our 400nm works decently with our invisible blue and invisible red inks, but not as well as the 375nm light.
There are no commercially available UV LED's that emit below 375nm, and certainly none at 254nm. There have been some UV LED's made in laboratories that go below 375nm, but you can't buy them. Supposedly, in spring of 2004 we may see some 365nm LED's.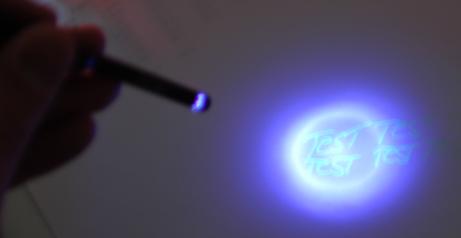 Both the LED Mini and LED Sub-Mini lights use 3 volt Lithium BR435 batteries. The LED Sub-Mini uses one battery while the LED Mini uses two batteries. The BR435 batteries, as you can see from the picture, are rather small. We stock the BR435 batteries at great prices.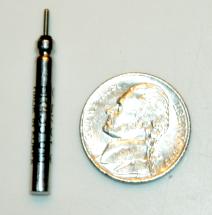 Please note that the 400nm LED lights don't work very well with our acetone red ink (XPR- series). They do work very well with the invisible blues.