UV LED AAAA
The Original Solid-State, Ultraviolet (UV) LED flashlights.  This is an item that we manufacture here in the USA.  You can't buy it anywhere else.
Models:
FlashUV1:  375nm 110 degree
FlashUV2:  375nm 10 degree
FlashUV3:  365nm 10 degree
FlashUV4:  365nm 110 degree

Specifications:
Output Power:  2,000 uW
Peak Wavelength


375nm, +/- 5nm in 110 degree or 10 degree beam

365nm, +/- 5nm in 110 degree or 10 degree beam

Very little visible light emitted.  < 1% of light is in human visible range.

Spectrum Half Width: 12nm

Power Requirement: 10mA

Operating Temperature: -30 to 80 degrees Centigrade

Storage Temperature: -40 to 100 degrees Centigrade

Diode Lifespan: 2,000 Hour average life

Highly Efficient UV LED

Made in the USA

Battery Life: 70 Hours

Alkaline Batteries Included

Case Features:

Machined Air-Craft Quality Heat Treated Aluminum

Black Anodized Finish

Water resistant.  Sealed with O-Rings

Pocket Clip

Each case has a unique serial number imprinted by laser

Case Switch: Momentary push button and twist for Continuous-On

Highly Durable.

Battery Requirement: 3 AAAA alkaline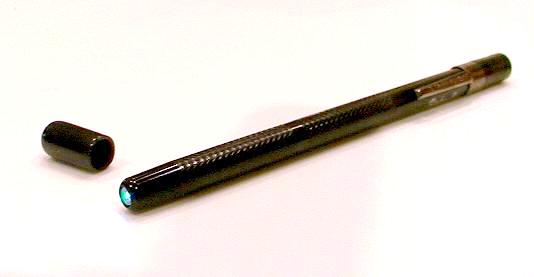 Our UV penlight is the world's smallest, lowest priced-solid state high quality 375nm and 365nm UV light source.  The pen is completely solid state using an ultra-efficient LED to generate the UV light unlike every product using a fluorescent tube or light bulb.  The penlight can slipped into a pocket, weighs very little and is much more durable than tubes or light bulbs.  The battery life is much longer and the LED gives full UV light output for its entire longer life.  No need for power cords, bulky battery packs and lots of expensive batteries!  Our low price UV LED flashlight has many features and uses.
The UV flashlight is compact, portable and rugged.  The 365nm - 375nm light emitted is UVA light, or longwave UV, which is inherently much safer than UVB or UVC.   The 375nm light produced in just under the human eye visible light range.
We have two versions of the UV LED penlight: 100 degree and 10 degree.  Both lights have the same total output power.  The 110 degree lens light has a broader, dimmer beam while the 10 degree lens light has a more concentrated, brighter beam. 
We also have a lower cost 400nm UV LED miniature light.
Note: 395-400nm UV lights cost much less than 375nm UV lights.  This is because a 395-400nm LED costs about $0.20 while a 375nm LED costs about $25.00.  At the moment, there is only one manufacturer in the world that makes a 375nm.  However, the 395-400nm lights don't work with as many UV fluorescent materials or may not work as well.  It depends on the particular characteristics of the material.  Our 400nm works decently with our invisible blue and invisible red inks, but not as well as the 375nm light.